In Memory of..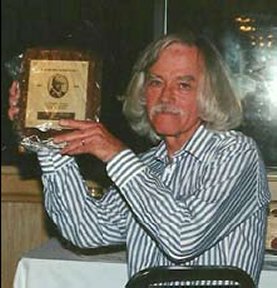 John Eric Holmes (1930 – 2010)
Word has just been received that John Eric Holmes has died. Holmes was a former associate professor of neurology at the University of Southern California School of Medicine, an author and promoter of fantasy role-playing games, a noted fan and enthusiast of Edgar Rice Burroughs, and an American writer of non-fiction, fantasy and science fiction. 
His writings have appeared under his full name and under variants such as Eric Holmes and J. Eric Holmes. He wrote two excellent ERB pastiches, "Red Ax of Pellucidar" and "Mahars of Pellucidar." He was guest of honor at the 1993 ECOF in Willows, California, hosted by Ralph Brown. He will be missed. May he rest in peace.
Game Designer. Born Ernest Gary Gygax in Chicago, the only son of a Swiss immigrant, Martin Gygax. He attended the University of Chicago but never took a degree, becoming an insurance underwriter. In the 1960s, he began playing military strategy games but wanted a game with more fantasy elements. He left the insurance business and became a shoe repairman in order to allow himself time for game development. In 1966, he assisted in the foundation of the International Federation of Wargamers and organized a gaming meet in his basement in 1967 which later became known as Gen Con 0. In 1971, Gygax and Jeff Perren wrote Chainmail, a miniatures wargame; Gygax and Don Kaye founded publishing company Tactical Studies Rules in 1973 and published the first version of "Dungeons & Dragons" in 1974. In 1977, a revised version of "D&D" was created in "Advanced Dungeons & Dragons" shortly after the death of Kaye which left Gygax in control of TSR. In 1980, he received the Charles S. Roberts Award for excellence in historical wargaming. In 1985, corporate in-fighting cost him control of TSR. After leaving the company, he created the role playing games "Dangerous Journeys" and "Lejendary Adventure", as well as the "Greyhawk" series of adventure novels. He suffered two strokes in the spring of 2004, but recovered enough to return to the "Dungeons & Dragons" universe in 2005 to aide in the creation of the "Castles & Crusades" system and the publication of "Castle Zagyg". His health remained fragile, and he was diagnosed with an inoperable abdominal aneurysm, though he was still active in the gaming community, hosting forums on gaming websites and a weekly game at his home. Gygax died at age 69 at his home in Lake Geneva, Wisconsin.